About Us
The pioneering developments in the field of technology has always innovated the medical industry with advanced products but the manufacturing of such products requires a great level of precision and accuracy which only a couple of companies like ours, IncuMed LLP, are able to perform. Since the year 2017, we have been one of Indias leading manufacturers and suppliers of Class II and Class III medical devices and for that, we are equipped with various advanced medical device manufacturing machinery. This way, we are able to manufacture the most remarkable set of medical products including Introducer Sheath, Cardiac Sheath, 6 inch Transradial Arterial Introducer Sheath, Transradial Arterial Introducer Sheath, 8 Inch Transradial Arterial Introducer Sheath, 11 Inch Transradial Arterial Introducer Sheath, etc. Moreover, we follow GMP as per medical device regulations to maintain the quality standards of our products.

Our Infrastructure

For a company which deals in manufacturing of medical devices, their infrastructure has to be large enough to perform the complex processes. Having a state-of-the-art infrastructural facility of our company, enables us to ease these procedures and meet the high demands of the clients. Following are some of the major constituents of our infrastructure:
It has a 3000 sq. ft. of working space in which 2000 sq. ft. is covered with clean room with compliance to ISO-7 specifications.
It is equipped with the latest and modern machinery.
It incorporates 545 sq. ft. of office and research & development space which enables us to carry out steadfast research on various medical levels.
It also consists of 252 sq. ft. of area for various other operations in the premises.

Vision & Mission

The primary vision of every company is to lead in the market with their products and services. But it is not as easy as it sounds. For accomplishing this, one has to be unique and distinguished from the others. Backed by a strong knowledge of the medical industry, the vision & mission of our company, IncuMed LLP, is oriented towards the betterment of the medical field with our innovative range of medical devices which includes 8 Inch Transradial Arterial Introducer Sheath, 6 inch Transradial Arterial Introducer Sheath, Transradial Arterial Introducer Sheath, etc. For their medically safe design, a team of doctors and technocrats work together and come up with the best solution at an affordable cost, to transform the medical industry.

Business Founders & Board of Directors

Behind the success of our company, is the remarkable efforts of the founds of the company and board of directors which are listed below:
S. No.

Name

Qualifications

Designation/Work Details

1.

Dr. N Krishna Reddy

MBBS, MD - General Medicine, DM - Cardiology

Chairman Founder (IncuMed LLP)
Co-Founded CARE Hospitals in 1997
Founder Chairman Relysis Medical Devices Ltd. 2002

2.

Dr. B K Srinivasa Reddy

MBBS, DM-Cardiology

Cardiologist

Managing Director Co-Founder (IncuMed LLP)

3.

Dr K.V.Raja Sekhara Rao

MBBS, MS, M.Ch (CTVS), FIACS, (MRCSEd).

Senior Consultant Cardiothoracic & Transplant Surgeon

4.

Dr Nalam Ramakrishna Rao




Director of RMDL

5.

Mr. Subramanian Shivaraman




Co-Founder of Sutures India Pvt. Ltd. now known as Healthium Medtech,
Director at Relisys Medical Devices Ltd.,
Founder of Just Games LLP, Telama Investments Family office and Advisor to Invascent Capital Partners

6.

Dr Varun Reddy Nallamala




Director of Health Care Service India Private Limited

7.

Dr Koneti Nageswara Rao

MBBS, MS.

Senior Consultant Pediatrition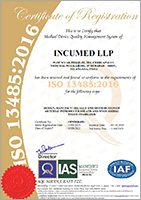 Clients

Read More